Man Made Monster
220px


Theatrical poster

Directed by
George Waggner
Produced by
Jack Bernhard
Written by
Harry Essex, Len Golos, Sid Schwartz, George Waggner
Starring
Lon Chaney Jr.
Lionel Atwill
Music by
Hans J. Salter
Cinematography
Elwood Bredell
Editing by
Arthur Hilton
Distributed by
Universal Pictures
Release

date(s)

March 28, 1941
Running time
59 min
Language
English
Man-Made Monster (1941) is a science fiction horror film released by Universal Pictures. The film stars Lon Chaney, Jr. in his horror debut. Man-Made Monster was re-released under various titles including Electric Man and The Mysterious Dr. R. In 1953, it was re-released by Realart Pictures under the title The Atomic Monster on a double bill with The Flying Saucer (1950).
A tragic accident when a bus hit a high power line has claimed the lives of all of the passengers on board, except for gentle Dan McCormick (Lon Chaney, Jr.), who survived the accident because he was virtually immune to electricity. McCormick, who does a sideshow exhibit as Dynamo Dan, the Electric Man is taken in by good Dr. John Lawrence (Samuel S. Hinds), who wants to study him. However his colleague, mad scientist Dr. Paul Rigas (Lionel Atwill) wants to create an army of electrobiologically-driven zombies. He gives McCormick progressively higher doses of electricity until his mind is ruined, and he is addicted to the charge. This temporarily gives McCormick the touch of death, making him capable of killing anyone he touched by electrocution. After accidentally killing Lawrence, Rigas insures McCormick's conviction to see what will happen if he is sent to the electric chair. McCormick survives, and with a super charge in his glowing body he kills several people, including Rigas, before running out of electricity and dying.[1]
Production
Edit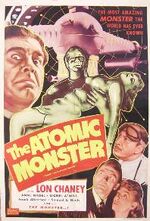 The film was shot in three weeks and was the cheapest film made by Universal in 1941 alone.[

citation needed

]
Boris Karloff was originally selected to play the role of Dr. Rigas but the studio scrapped the idea.
When Realart rereleased the film under the title Atomic Monster, Alex Gordon had titled one of his films with the same title. He sent his attorney Samuel Z. Arkoff to meet the Realart representative James H. Nicholson to discuss the matter. The three men started their own film company that became American International Pictures.
References
Edit
External links
Edit
Community content is available under
CC-BY-SA
unless otherwise noted.